On March 26th, our Sunday School children prepare for Holy Week with lessons named "The Road to Easter". Unleavened bread was made and baked, The Last Supper was discussed, along with the Garden of Gethsemane.
The Sunday School children having fun and learning how to pray inside a tent.  "Prayer Tents" is one of the Faith Stepping Stones in King of Kings' youth program.
A talent night was held on March 18th. We enjoyed comedians, a trumpet player, a poet, a juggler, dancers, singers, and a four-piece band.
March 16th was when Maria and Pat held their first Beadiful Creations session. The participants learned a new craft and had fun too!
Embroidery, quilting, twisted threads, backpacks for school supplies, beading, and lively conversation made for a great time at the Project Fair, sponsored by King of King's Women's Group, on Saturday, March 11th.  Consider joining in next time.  No project required; come for the fun and fellowship.
Thanks to Bill Myers who built this new podium for guests to sign our visitors' book.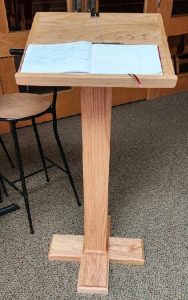 On February 12th, we caught this adorable picture of dad and daughter enjoying our new children's area in the sanctuary.  See below.  ⇓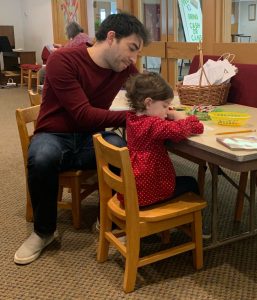 On January 29th, a children's area was added in the rear of our sanctuary.  Thanks to Maria Jackson, our Faith Formation Director, for spearheading this project.
The Salty Youth Retreat was held January 15th.  King of Kings is in partnership with St. Mark's Lutheran Church in Baldwinsville and Atonement Lutheran Church in Syracuse with the administration of their confirmation youth and senior high youth programs.
January 8th was Epiphany as well as Pastor Tara's final day here at King of Kings. She has accepted a new call in her hometown and now will be with her family on a more consistent basis. Though we will miss her, we will always remember how she navigated us through the pandemic and beyond. During service today, she received lots of gifts, participated in a laying on of hands, followed by a reception in our fellowship hall. Godspeed and best wishes, Pastor!
Our first Pie Church was held on Thanksgiving Eve in the Fellowship Hall.  Members of the community and our congregation enjoyed pizza pie and homemade pies made by King of Kings' "world-renowned" bakers!
November 6th was All Saints Day when King of Kings remembered those we lost this last year.  But while we grieve, we also rejoice and welcome our newest member.
On October 28th we celebrated Halloween a little early with some costumes, music, food, and a campfire.  What a success!
We recently added a children's section to our Little Free Library and a makeover was needed.  This is the result.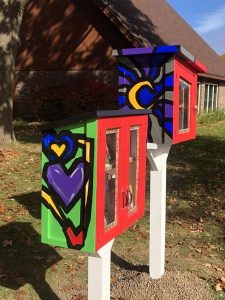 Welcome to Maria Jackson who began her ministry with King of Kings as Faith Formation Director on October 1st.  Good luck.  We hope you'll be a part of our community for a long time!
Thank you is not enough to say in response to 15 years of ministry as King of Kings' Administrative Assistant! Blessings on your retirement Joan!
A pancake breakfast with all the trimmings was provided and cooked by the King's Confirmation Youth (and friends) to thank the congregation for their support during their journey.  Great food and conversation was enjoyed by all.  And the weather was beautiful!
On June 5th, four young people celebrated their Confirmation.  Congratulations!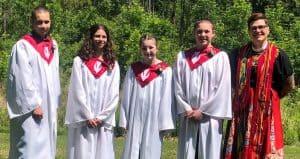 Welcome and congratulations to Madilynn Rose on her baptism on May 29th.
Jameson Matthew was baptized on May 22nd.  Congratulations!
First Communion was celebrated on April 17th.