Thank you to Howie Mansfield for all his support and labor during the quarantine to make broadcasts of worship and communications for King of Kings possible.  Here he is receiving his certificate of "Essential Person of Distinction" during the pandemic sponsored by the Greater Liverpool Chamber of Commerce.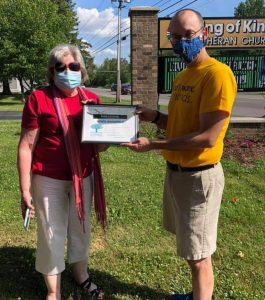 Congratulations to Nancy Wagner!  The vote was unanimous to call her as Deacon of King of Kings' Lutheran Church.  July 15, 2020.
Stephanie and Lee Ann were planning a wedding for December 2020.  Unfortunately, the Covid-19 pandemic hit and Lee Ann, an RN, accepted a two month assignment to assist with medical emergencies in hard-hit NYC at Queens Mount Sinai Hospital.  The wedding took place on April 7th, but the big party is still planned for December.  Stay safe, ladies.  (Yes, that is a mask on Pastor Tara's face.)
March 8th was Pastor Tara's installation as King of Kings' newly-called pastor.  Local clergy, her new congregation, friends, and her family came to honor her.  It was a glorious celebration with good music, good food, and good people!
February 26th was King of Kings' first Ashes to Go event.  We received great coverage from Syracuse's TV, newspaper, and radio stations and about 100 people participated!  Hope to see you next Ash Wednesday.  See the news coverage here.
Pastor Tara's first day on February 23rd.  The weather welcomed her with bright sunshine and an almost 50 degree day.  The congregation and guests were even warmer!
Our newest member, Carol Douglas, was welcomed on February 16th (pictured with her husband, Pierce).  She is anxious to get started serving God through King of Kings in various ways.  Carol is always open to meeting people, so if you see her and her husband, Pierce, at worship (usually 8:15 a.m.) make sure you say hi to them.
February 9th was a sad day for King of Kings.  Today we said farewell and Godspeed to the Jordan family, who have been cherished members for five years.  They were always willing to step up in any capacity and participate fully when asked.  On the flip side, whichever church in the Albany area they settle on will be truly blessed.  King of Kings will miss you!
The predecessor and the successor!  On Monday, January 27th, Pastor Tara traveled from Jamestown to transfer her many books/art and music supplies to her new office.   Pastor Carroll took this opportunity to present her with the keys to King of Kings.  Looks like he was helping her hang some of her paintings as well?
On Sunday, January 26th, we said goodbye to our intentional interim pastor, Dr. Julius Carroll, and his wife, Geneva.  We can't thank him enough for his guidance, wisdom, and caring these past 21 months.  God bless you both in sunny North Carolina.
60 yards of flannel donated by King of Kings' members were turned into 30 baby layettes on January 18th by the ladies group.  Pastor Carroll blessed them on the 26th.  The Northwest Family Resource Center in Baldwinsville will give them to new moms in need.
1,372 diapers on January 5th. Thanks to Thrivent, the Sunday School was able to purchase diapers for the food pantry. Thanks to the congregation's generosity, we were able to repackage the diapers and include a board book in each package as a gift for the child that receives them!
"The Nativity" is an evolution of the outdoor Living Nativity and the Sunday School pageant. The children, as usual, were all worthy of an Oscar for their acting skills. They were assisted by some teens and an adult or two. Afterwards, we served everyone drinks and cookies, just in time to send all the young ones home all sugared up!
King of Kings' newest member joined us December 8th. Michele Hayes has been visiting with us for a few months and had already jumped in with both feet. However, a birdie told us that now she's a member of our congregation, she plans on doing more things?! Thank you, Holy Spirit, for the gift of this energetic, vibrant woman.
Our 13th Annual Thanksgiving Dinner was served on November 28th. This event is a blessing for the members of the congregation and we certainly hope it also is for our community.
Over 20 Thanksgiving Baskets were packed up and driven to those in need on Sunday, November 24th.
Sunday, November 16th, was Craft Day, sponsored by the Ladies' Group. Creative ideas abound! Plan on joining us next time.
Our young families group hosted a Halloween Party on Sunday, October 27th. Lots of food, crafts and games.
October 25th. We are off to a great start with our Thrivent Food drive having collected 220 food items so far. We are hoping to reach our goal of 500 items on Sunday to finish out this project during the month of October and receive the $500 check for St. Paul's food pantry. UPDATE: We did it! St. Paul's Food Pantry will be receiving a $500 check! Good work, King of Kings!
Sunday, October 20th. King of Kings' participants showing their best side in the 50th Anniversary of the Syracuse Area CROP Hunger Walk, sponsored by Church World Service.
On Sunday, October 6th, Pastor Carroll dedicated our new outdoor sign. If we do say so ourselves, isn't it beautiful? Oh, yeah, practical also!
September 15th was this year's opening of Sunday School. It looks like our children are ready to not only have fun, but to learn about Jesus.
Our annual fall picnic was held on September 8th. The weather was sunny and not too hot, perfect for the kids to play outside. The adults were enjoying hot dogs, burgers, salads, and desserts!
So wonderful to worship with our siblings in Christ as a unified ELCA Lutheran presence from five congregations at St. Paul's on August 25th.
Vacation Bible School, in conjunction with St. Mark's Lutheran in Baldwinsville, was held the week of August 19th at St. Mark's. Over 30 children attended each day and it seems fun was had by all!
On dumpster day, enough work was accomplished to fill most of its capacity. It's strange that the only picture taken was this one! We also obviously had some fun, too.
A few in the ladies group visited the Harriet Tubman museum in Auburn, New York, on August 16th. The photo shows Harriet at her actual height of 4'11".
Our new sign started to become a reality on June 21st and is complete today, August 7th. Beautiful, isn't it?