The drive-up Thanksgiving Dinner giveaway was such a success, we did it again at Christmas. This is a prep team packaging the dinners.
Pastor Tara (alias Ginger Rogers) had a bit of fun while waiting for the next car to pull up.  Check it out here.
Since 2007, King of Kings has been hosting a community sit-down Thanksgiving dinner with all the trimmings on Thanksgiving Day.  Because of the pandemic, obviously that couldn't happen this year.  So we introduced a drive-up Thanksgiving dinner giveaway a few days before the actual holiday.  Even though it was the usual Upstate New York rainy, cold November day, it was a huge success!
Sunday, November 22nd, was a day of celebration as Pastor Tara installed Deacon Nancy Wagner as King of Kings' Coordinator of Lay Ministries and Faith
Formation.  We hope to work with you for a long time, Deacon Nancy!
Pastor Tara was a recent guest on the podcast Beta Male Revolution talking about her Holy Shenanigans podcast and how it became a reality.  Click here to listen.  Billy, who is a counselor, and his wife, Brandy Eldridge, are the hosts.
The Women's Group sponsored a Feed500 initiative.  The goal was to secure 500 food items and apply for a competitive $500 Thrivent grant for the pantry at Brown Memorial, Syracuse.  Despite limited building access and the pandemic, King of Kings donated over 500 items in a short four day period.  In addition to the food and a successful $500 Thrivent grant, we received an extra $150 to purchase hygiene supplies for the community served by Brown Memorial.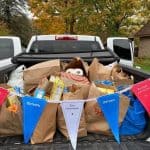 On Sunday, September 27th, our three confirmands, Jack, Elizabeth and Jacob, were confirmed in a very special outside ceremony that was videotaped and shared with the congregation.
September 22nd was the first episode of Pastor Tara's "Holy Shenanigans" weekly podcast.  Subscribe, listen, and share to help get the word out.  
On September 19th, the Sunday school kids stopped by the pavilion to assemble school kits for Lutheran World Relief. It was great to see their smiling faces behind those masks! Thank you to the everyone that donated school supplies for our project. A special thank you goes to Lorraine Savidge for the beautiful backpacks that she sewed for us!
Thank you to Howie Mansfield for all his support and labor during the quarantine to make broadcasts of worship and communications for King of Kings possible.  Here he is receiving his certificate of "Essential Person of Distinction" during the pandemic sponsored by the Greater Liverpool Chamber of Commerce.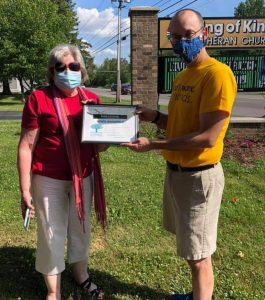 Congratulations to Nancy Wagner!  The vote was unanimous to call her as Deacon of King of Kings' Lutheran Church.  July 15, 2020.
Stephanie and Lee Ann were planning a wedding for December 2020.  Unfortunately, the COVID-19 pandemic hit and Lee Ann, an RN, accepted a two month assignment to assist with medical emergencies in hard-hit NYC at Queens Mount Sinai Hospital.  The wedding took place on April 7th, but the big party is still planned for December.  Stay safe, ladies.  (Yes, that is a mask on Pastor Tara's face.)
March 8th was Pastor Tara's installation as King of Kings' newly-called pastor.  Local clergy, her new congregation, friends, and her family came to honor her.  It was a glorious celebration with good music, good food, and good people!
February 26th was King of Kings' first Ashes to Go event.  We received great coverage from Syracuse's TV, newspaper, and radio stations and about 100 people participated!  Hope to see you next Ash Wednesday.  See the news coverage here.
Pastor Tara's first day on February 23rd.  The weather welcomed her with bright sunshine and an almost 50 degree day.  The congregation and guests were even warmer!
Our newest member, Carol Douglas, was welcomed on February 16th (pictured with her husband, Pierce).  She is anxious to get started serving God through King of Kings in various ways.  Carol is always open to meeting people, so if you see her and her husband, Pierce, at worship (usually 8:15 a.m.) make sure you say hi to them.
February 9th was a sad day for King of Kings.  Today we said farewell and Godspeed to the Jordan family, who have been cherished members for five years.  They were always willing to step up in any capacity and participate fully when asked.  On the flip side, whichever church in the Albany area they settle on will be truly blessed.  King of Kings will miss you!
The predecessor and the successor!  On Monday, January 27th, Pastor Tara traveled from Jamestown to transfer her many books/art and music supplies to her new office.   Pastor Carroll took this opportunity to present her with the keys to King of Kings.  Looks like he was helping her hang some of her paintings as well?
On Sunday, January 26th, we said goodbye to our intentional interim pastor, Dr. Julius Carroll, and his wife, Geneva.  We can't thank him enough for his guidance, wisdom, and caring these past 21 months.  God bless you both in sunny North Carolina.
60 yards of flannel donated by King of Kings' members were turned into 30 baby layettes on January 18th by the ladies group.  Pastor Carroll blessed them on the 26th.  The Northwest Family Resource Center in Baldwinsville will give them to new moms in need.
1,372 diapers on January 5th. Thanks to Thrivent, the Sunday School was able to purchase diapers for the food pantry. Thanks to the congregation's generosity, we were able to repackage the diapers and include a board book in each package as a gift for the child that receives them!