Congratulations to Joshua and his family.  Joshua was baptized in the pavilion on Sunday, September 12th.  What a joy to welcome another of God's children into His kingdom.
King of Kings celebrated God's Work Our Hands on September 12th by collecting school supplies for Lutheran World Relief, which were placed in backpacks by our Sunday School students.
King of Kings celebrated the fifth anniversary of Pastor Tara's ordination on July 25th  with flowers, gluten-free cake, fluffernutter sandwiches (her favorite) and making a donation in Pastor's name to ACR Health The Q Center at ACR Health!
On July 5th, Channel 3 news in Syracuse did a short feature on King of Kings and how we survived during the pandemic.  Click here to view it.
Sunday, June 6th, was the First Communion of these three youngsters.  Pastor suggested they make funny faces for this alternative photo!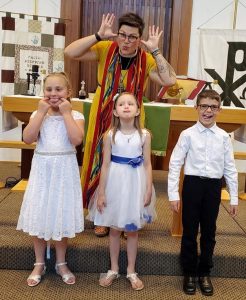 The Liverpool Chamber of Commerce visited King of Kings on May 19th to present a  certificate naming us Non-Profit Business of the Month for April 2021.  Pastor Tara then gave them a quick tour of the church.  Click here to view that visit.
On May 16th, King of Kings officially welcomed Lee Ann and Stephanie into our church community.
Thanks to all who voted.  We are honored by your support.
Our first in-person worship since March 15, 2020.  It's been a long haul, but Onondaga County's numbers are way down and while we are still wearing masks, physical distancing and most of us vaccinated,  we're looking forward to our new normal.  Thanks be to God!  May 2, 2021.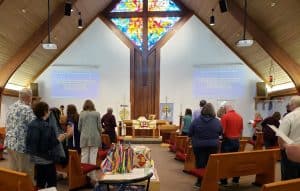 Also on Easter Sunday, we welcomed into God's Kingdom two little ones who were born during the pandemic.
On Easter Sunday, an outdoor sunrise in-person service was held as well as a live virtual broadcast later in the morning.  Here are a few of the fearless souls who braved the 30 degree temperatures at 6:30 a.m.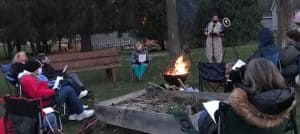 King of Kings celebrated Ash Wednesday with a DIY (Do It Yourself) Ashes to Go drive-through.  Each car was given a packet of enough ashes for four people with instructions for its application.  Prayers were also heard.  The temperature was in the teens but Pastor and her helpers managed to keep as warm as possible and make many attendees happy!
The drive-up Thanksgiving Dinner giveaway was such a success, we did it again at Christmas. This is a prep team packaging the dinners.
Pastor Tara (alias Ginger Rogers) had a bit of fun while waiting for the next car to pull up.  Check it out here.
Since 2007, King of Kings has been hosting a community sit-down Thanksgiving dinner with all the trimmings on Thanksgiving Day.  Because of the pandemic, obviously that couldn't happen this year.  So we introduced a drive-up Thanksgiving dinner giveaway a few days before the actual holiday.  Even though it was the usual Upstate New York rainy, cold November day, it was a huge success!
Sunday, November 22nd, was a day of celebration as Pastor Tara installed Deacon Nancy Wagner as King of Kings' Coordinator of Lay Ministries and Faith
Formation.  We hope to work with you for a long time, Deacon Nancy!
Pastor Tara was a recent guest on the podcast Beta Male Revolution talking about her Holy Shenanigans podcast and how it became a reality.  Click here to listen.  Billy, who is a counselor, and his wife, Brandy Eldridge, are the hosts.
The Women's Group sponsored a Feed500 initiative.  The goal was to secure 500 food items and apply for a competitive $500 Thrivent grant for the pantry at Brown Memorial, Syracuse.  Despite limited building access and the pandemic, King of Kings donated over 500 items in a short four day period.  In addition to the food and a successful $500 Thrivent grant, we received an extra $150 to purchase hygiene supplies for the community served by Brown Memorial.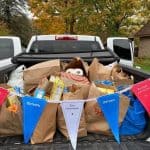 On Sunday, September 27th, our three confirmands, Jack, Elizabeth and Jacob, were confirmed in a very special outside ceremony that was videotaped and shared with the congregation.