Our latest baptism was held on March 20th.  Congratulations to mom, dad, grandma, grandpa, and baby!
Even on a solemn day such as Ash Wednesday, joy can be seen, heard, and appreciated.
Thanks to King of Kings' most giving and loving congregation, 718 items were collected for the food drive.  West Side Food Pantry received nearly 200 rolls of the most recently requested non-food item, toilet paper, and a $500 award from the Thrivent Food 500 Grant.
Thanks to all the volunteers, donations, and community people who picked up meals on November 22nd and December 20th to make it possible to distribute 200 Thanksgiving/Christmas dinners for our Drive-Up Ministry.
The Sunday School celebrated Reformation and Halloween in the Fellowship Hall while socially distancing and masked.  Costumes were worn, games were played, and a fun time was had by all.
King of Kings celebrated Reformation on Sunday, October 31st,  the 504th anniversary of when Martin Luther posted the 95 Theses on the door of All Saints' Church in Wittenberg, Germany.  Pastor Tara posted 95 Reese's on the door leading into the sanctuary.
Congratulations to Joshua and his family.  Joshua was baptized in the pavilion on Sunday, September 12th.  What a joy to welcome another of God's children into His kingdom.
King of Kings celebrated God's Work Our Hands on September 12th by collecting school supplies for Lutheran World Relief, which were placed in backpacks by our Sunday School students.
King of Kings celebrated the fifth anniversary of Pastor Tara's ordination on July 25th  with flowers, gluten-free cake, fluffernutter sandwiches (her favorite) and making a donation in Pastor's name to ACR Health The Q Center at ACR Health!
On July 5th, Channel 3 news in Syracuse did a short feature on King of Kings and how we survived during the pandemic.  Click here to view it.
Sunday, June 6th, was the First Communion of these three youngsters.  Pastor suggested they make funny faces for this alternative photo!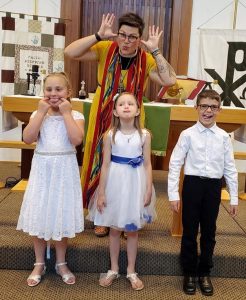 The Liverpool Chamber of Commerce visited King of Kings on May 19th to present a  certificate naming us Non-Profit Business of the Month for April 2021.  Pastor Tara then gave them a quick tour of the church.  Click here to view that visit.
On May 16th, King of Kings officially welcomed Lee Ann and Stephanie into our church community.
We are grateful to the Liverpool Chamber of Commerce who nominated us.  Thanks to all who voted.  We are humbled and honored.
Our first in-person worship since March 15, 2020.  It's been a long haul, but Onondaga County's numbers are way down and while we are still wearing masks, physical distancing and most of us vaccinated,  we're looking forward to our new normal.  Thanks be to God!  May 2, 2021.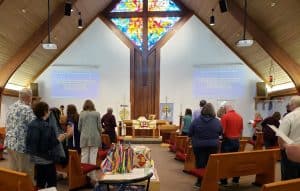 Also on Easter Sunday, we welcomed into God's Kingdom two little ones who were born during the pandemic.
On Easter Sunday, an outdoor sunrise in-person service was held as well as a live virtual broadcast later in the morning.  Here are a few of the fearless souls who braved the 30 degree temperatures at 6:30 a.m.