September 24th was a happy day for Scarlett Grace and her family at her baptism. Welcome to King of Kings, Scarlett!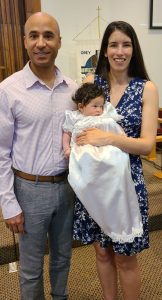 We said goodbye on September 3rd to King of King's Director of Faith Formation, Maria Jackson, who is leaving us for a full-time job opportunity.  Thank you, Maria, for helping us to keep on track the past year!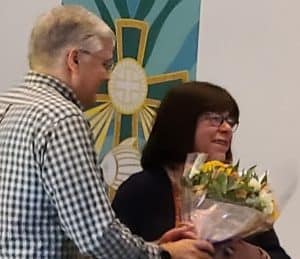 On August 27th, Jonah was baptized surrounded by his parents, sister, two sets of grandparents, uncle, aunts, etc.  What a glorious day for all of us!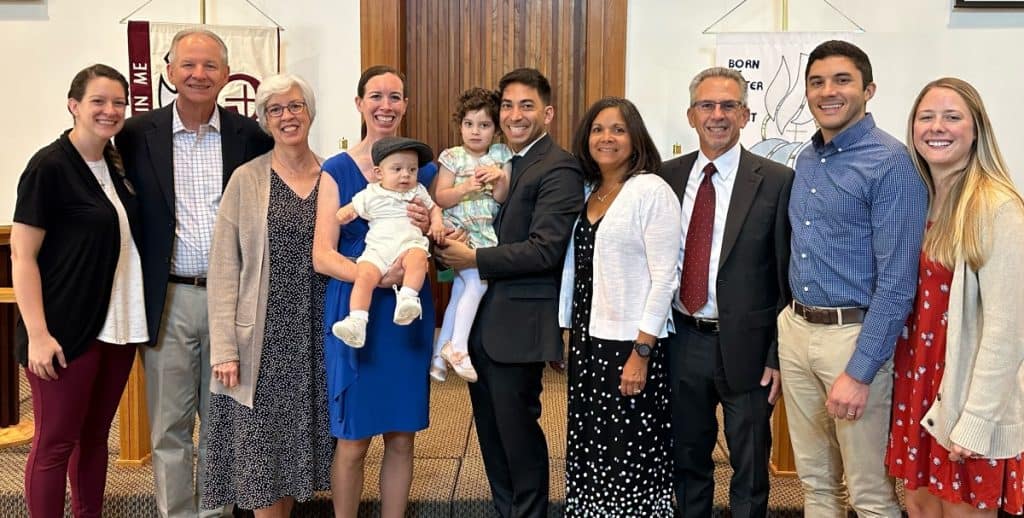 Our first Splish, Splash & Laughs was held on August 17th at King of Kings. It was a beautiful, not too hot day for those who attended. Not only were there games where we got wet but also a chance to show off our artistry!
Elizabeth and Jacob are the high school graduates that were honored on July 23rd. They served as Communion Assistants during the service and then were given blankets to bring with them to college to keep them warm, safe, and wrapped in the love of all of us here at King of Kings as they continue their life journey.
The trash cans were filled to the top and joyfully received by the Interfaith Works warehouse team. Once again, the King of Kings' community responded to a need with "We've got this" and over $1,600 in supplies were donated to assist refugee families. Special thanks to Thrivent for helping support this effort with an Action Team Grant.
Sunday School concluded on June 11th with a garden planting party with ten youth. We planted over 30 squash sprouts that will provide a fall harvest for the food pantry.
Returning for the first time since 2019, our Annual Church Picnic with Yoder Chicken (the best in the world! Just ask us.) We enjoyed hot dogs, side salads and dishes, homemade desserts and ice cream, face painting, balloon animals, and the kids playing on the swings and slides.
Our awesome women's group is sponsoring a collection of household items to fill 15 large trash cans for the warehouse at InterFaith Works for the Refugee Resettlement program. As you can see, those items are starting to arrive. Keep up the good work, King of Kings!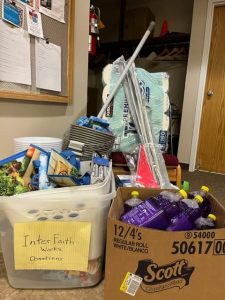 WOW!! An SUV packed with summertime needs made its way to our food pantry partners at Brown Memorial in Syracuse last week. Great work, King of Kings. (Continued contributions are always welcome)
Our First Communion class this year was small but mighty!  Congratulations.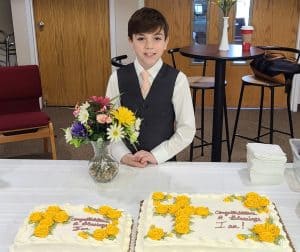 Interfaith Works' Refugee Resettlement program always needs more volunteers/furniture/sheets/towels/etc. to furnish apartments in Syracuse for incoming new Americans.  Here are some pics.
So thankful for the generosity of our King of Kings' family. This was April 3rd's delivery to Interfaith Works. It was received with excitement as this week two families arrive from Syria and their apartments are being set up starting tomorrow. Thanks to Pat Lebel and Betsy Herpich for heading this up, and to Syracuse for being a Sanctuary/Safe City.
On March 26th, our Sunday School children prepare for Holy Week with lessons named "The Road to Easter". Unleavened bread was made and baked, The Last Supper was discussed, along with the Garden of Gethsemane.
The Sunday School children having fun and learning how to pray inside a tent.  "Prayer Tents" is one of the Faith Stepping Stones in King of Kings' youth program.
A talent night was held on March 18th. We enjoyed comedians, a trumpet player, a poet, a juggler, dancers, singers, and a four-piece band.
March 16th was when Maria and Pat held their first Beadiful Creations session. The participants learned a new craft and had fun too!
Embroidery, quilting, twisted threads, backpacks for school supplies, beading, and lively conversation made for a great time at the Project Fair, sponsored by King of King's Women's Group, on Saturday, March 11th.  Consider joining in next time.  No project required; come for the fun and fellowship.
Thanks to Bill Myers who built this new podium for guests to sign our visitors' book.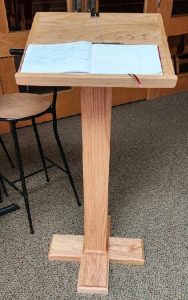 On February 12th, we caught this adorable picture of dad and daughter enjoying our new children's area in the sanctuary.  See below.  ⇓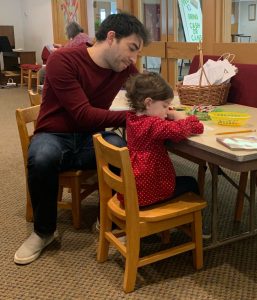 On January 29th, a children's area was added in the rear of our sanctuary.  Thanks to Maria Jackson, our Faith Formation Director, for spearheading this project.
The Salty Youth Retreat was held January 15th.  King of Kings is in partnership with St. Mark's Lutheran Church in Baldwinsville and Atonement Lutheran Church in Syracuse with the administration of their confirmation youth and senior high youth programs.
January 8th was Epiphany as well as Pastor Tara's final day here at King of Kings. She has accepted a new call in her hometown and now will be with her family on a more consistent basis. Though we will miss her, we will always remember how she navigated us through the pandemic and beyond. During service today, she received lots of gifts, participated in a laying on of hands, followed by a reception in our fellowship hall. Godspeed and best wishes, Pastor!
Our first Pie Church was held on Thanksgiving Eve in the Fellowship Hall.  Members of the community and our congregation enjoyed pizza pie and homemade pies made by King of Kings' "world-renowned" bakers!
On October 28th we celebrated Halloween a little early with some costumes, music, food, and a campfire.  What a success!
We recently added a children's section to our Little Free Library and a makeover was needed.  This is the result.