Our first Pie Church was held on Thanksgiving Eve in the Fellowship Hall.  Members of the community and our congregation enjoyed pizza pie and homemade pies made by King of Kings' "world-renowned" bakers!
November 6th was All Saints Day when King of Kings remembered those we lost this last year.  But while we grieve, we also rejoice and welcome our newest member.
On October 28th we celebrated Halloween a little early with some costumes, music, food, and a campfire.  What a success!
We recently added a children's section to our Little Free Library and a makeover was needed.  This is the result.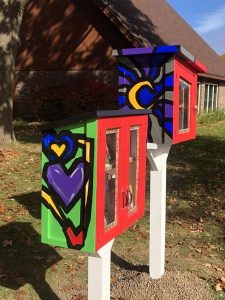 Welcome to Maria Jackson who began her ministry with King of Kings as Faith Formation Director on October 1st.  Good luck.  We hope you'll be a part of our community for a long time!
Thank you is not enough to say in response to 15 years of ministry as King of Kings' Administrative Assistant! Blessings on your retirement Joan!
A pancake breakfast with all the trimmings was provided and cooked by the King's Confirmation Youth (and friends) to thank the congregation for their support during their journey.  Great food and conversation was enjoyed by all.  And the weather was beautiful!
On June 5th, four young people celebrated their Confirmation.  Congratulations!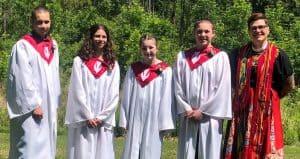 Welcome and congratulations to Madilynn Rose on her baptism on May 29th.
Jameson Matthew was baptized on May 22nd.  Congratulations!
On May 1st, Deacon Nancy Wagner moved to Ohio to be closer to her family.  It's been a wonderful run.  We will miss you, Deacon!
First Communion was celebrated on April 17th.
Our latest baptism was held on March 20th.  Congratulations to mom, dad, grandma, grandpa, and baby!
Even on a solemn day such as Ash Wednesday, joy can be seen, heard, and appreciated.